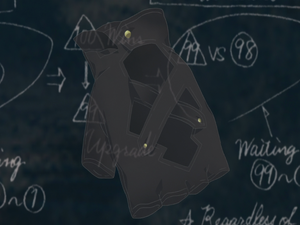 Gauntlet (手袋持ち, Tebukuro-mochi (Gantoretto)?, lit. "Glove Bearer") is a student qualified into the top 100 of the Academy.
Etymology
Edit
Registration Code
Edit
Known Members
Edit
49th Walpurgis Night
Edit
44th Walpurgis Night
Edit
Rank
Name
Registration Code
Automaton/Others
Notes
Unknown
Bronson
Frey was originally in the 100th seat, but Raishin Akabane defeated Felix Kingsfort, vacating two seats, Felix and Lisette Norden's, she then went two ranks up, placing to the 98th seat, but after Raishin qualified into the Gauntlets and August Veyron qualified into the Rounds, she then went one rank down, placing to the 99th seat.
Raishin Akabane, originally in the 1235th out of 1236, ranked up to the 100th seat after defeating Felix Kingsfort and being rated only in Machinart battle.
Frey, after ranking down to the 99th seat, ranked up to the 98th seat after Loki, originally in the 7th seat, demoted himself to the 99th seat.
Lisette Norden, before the Night Party, was already killed by Felix Kingsfort who then had Eliza disguise as her. Lisette's seat was vacated only after Raishin Akabane defeated Felix, revealing that she was already dead.
Felix Kingsfort's seat was vacated after he was defeated by Raishin Akabane, revealing him to be Cannibal Candy, and expelled out of the Academy.
August Veyron, originally in the 1236th out of 1236, qualified into the Night Party, ranked up to the 4th seat, taking Felix Kingsfort's vacated seat.
References
Edit