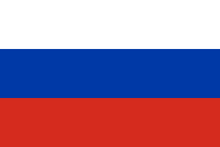 Russia (ロシア, Roshia?), or officially known as the Russian Empire (ロシア帝国, Roshia Teikoku?)
Etymology
Edit
Background
Edit
In the 18th century, the Russian nation had greatly expanded through conquest, annexation, and exploration to become the Russian Empire, the third largest empire in history, stretching from Poland in Europe to Alaska in North America. It is an absolute monarchy (between the 17th century and 1905), ruled by a Tsar or a Tsaritsa until the Russian Empire, and an Emperor after that, but the latter was still usually called the Tsar.
Chronology
Edit
Recently, the Russian Empire lost the costly Russo-Japanese war against Imperial Japan, and also had to deal with a civil revolution. Russia is also secretely backing Serbia in its territorial dispute with the Austo-Hungarian Empire.[1]
Locations
Edit
Known Characters from the Russia
Edit
External Links
Edit
References
Edit
Ad blocker interference detected!
Wikia is a free-to-use site that makes money from advertising. We have a modified experience for viewers using ad blockers

Wikia is not accessible if you've made further modifications. Remove the custom ad blocker rule(s) and the page will load as expected.